Spring Painting
Spring is the perfect time of year to start thinking about what needs to be done around the home to keep it in tip top shape. House painting should be at the top of every homeowner's list.
A high quality paint job will enhance a property's curb appeal, increase its market value, and protect a home from the wear and tear caused by Mother Nature.
Weather can be unforgiving on a home. Snow, rain, wind, and the harsh effects of the sun all create problems which need attention. At Kevin Palmer Painting we closely examine your home to look for signs of weather related deterioration, and we offer solutions and corrections for these problems.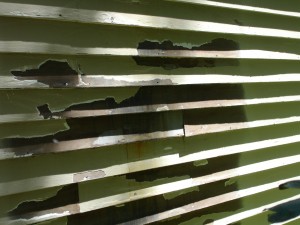 Moisture causes more damage to a house than any other element. As such we pay particular attention to the causes, sources, and solutions to problems created by water.
We look closely for wood rot. Oftentimes window frames, door frames, and sills show signs of deterioration. If caught early enough, the skilled painters of Kevin Palmer Painting can dig out the impacted sections and repair the damage with a specially formulated patching compound. More extensive decay, often resulting from deferred maintenance, will require the skills of a carpenter to replace the damaged siding and trim.
Rotted panels on garage doors are another result of water damage. This type of deterioration is often caused by splash back issues which can be corrected with adequate gutters properly maintained. Kevin Palmer Painting will assist our clients in replacing the damaged overhead door panels and offer solutions regarding gutter and drainage issues.
Areas above roofs, decks, foundations, and landscaping need to be examined closely for signs of problems. Snow sits against the house most winters and rain splashes back onto the siding causing peeling problems and potential damage. Wear and tear of this type is difficult to avoid, but thorough painting at regular intervals will protect the siding and trim from needing to be replaced and drastically reduce long-term maintenance costs.
Damage from snow and ice dams and roofs in need of repair and/or replacement are examples of water damage which if detected and corrected early enough can literally save the informed homeowner tens of thousands of dollars. The house painting professionals at Kevin Palmer Painting have decades of experience helping our painting customers recognize these issues and avoid costly repairs.
A qualified painting contractor will also look for signs of mold and mildew as they are precursors of problems to come. Our expert power washing service makes short shrift of mold and mildew issues. Followed by a great paint job with paints containing a mildewcide and fungicide additive, pressure washing will help keep the home looking perfect.
Paint fading inconsistently, poor color retention, excessive chalking, and erosion concerns are all issues that the house painting experts of Kevin Palmer Painting have extensive experience detecting and solving for our customers.
We hope you will pick up the phone and call us today. Ask for a spring painting checkup or audit. You will be glad you did, and your home will thank you!
At Kevin Palmer Painting, we have been servicing the interior painting, exterior painting, house staining, power washing, and low pressure roof cleaning needs of fine homes in West Hartford CT and the surrounding Farmington Valley towns of Avon CT, Bloomfield CT, Canton CT, Farmington CT, Granby CT, and Simsbury CT for nearly a half century. If you are considering investing in the best painting work possible and want to discuss your next residential painting, commercial painting, or power washing project you can reach us at (860) 658-2441 or visit us on the web at www.kevinpalmerpainting.com .