Kevin Palmer Painting recently completed an interior painting project on a beautiful historic home in West Hartford, CT. The clients are repeat customers, and our professional painters were very proud to have been selected to undertake this challenging and rewarding project.
The project involved painting a beautifully appointed office in a timely manner while paying attention to the smallest of details. The homeowner, a perfectionist with exquisite taste, used historic colors to best highlight the detailed interior trim and molding. Paint color and sheen samples were made for owner review and consideration, and upon approval, the painting experts of Kevin Palmer Painting began to work their magic.
The first step involved complete and thorough painting preparation. The painters carefully covered and protected all areas involved in the restoration. They then undertook preparation including scraping off loose paint, spot priming as needed, caulking, shellacking, patching, sanding, and cleaning using HEPA filtered vacuums. The woodwork was then tack ragged prior to finish painting.
The painters then primed the walls with 2 coats of primer tinted to match the selected finish color. A lining paper was next installed on all walls to achieve a soft textured look and feel sought by the client.
The next step was to apply 2 coats of an oil base finish to the bookcases, windows, doors, trim, and moldings. The office woodwork literally glistened when the painters carefully and meticulously completed this task.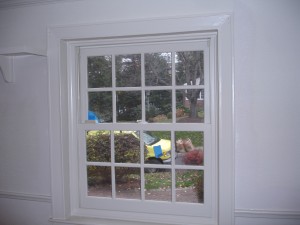 The woodwork glistened with a low-luster finish which enhanced the beauty of the finely detailed trim.
The interior house painting professionals of Kevin Palmer Painting then turned their expertise to applying the finish paint to the walls. Great care and skill was used to cut neat, clean, crisp lines around the trim. The walls then received 2 finish coats of premium matte finish paint.
The interior painting professionals of Kevin Palmer Painting were extremely proud of the finished product: a beautiful interior painting project completed to the satisfaction of a discerning customer. The hard work, skill, and craftsmanship evident in the work are why customers say "Painting done by Kevin Palmer Painting looks better, lasts longer, and offers the ultimate in beauty and protection."
Kevin Palmer Painting has had the pleasure of painting for customers in Avon CT, Bloomfield CT, Canton CT, Farmington CT, Granby CT, Simsbury CT, and West Hartford CT for nearly a half century. Let us help you with your next interior painting project. We have years of experience with everything from living rooms, dining rooms, kitchens, foyers, bedrooms, and family rooms.
For further information or to discuss your next residential interior painting or commercial interior painting you can reach us on the web at www.KevinPalmerPainting or call us at (860) 658-2441. Contact us for a free quote on your next interior painting project. We will be happy to service your painting needs.