Painting Resources
Kevin Palmer Painting is an industry leader in the field of interior and exterior residential painting. Kevin Palmer Painting has the skill, experience, dedication, and expertise to make your next paint project the best ever. This page offers assistance to customers searching for solutions to their painting needs. The resources here are to assist our painting clients and help customers make informed decisions.

Insurance: Kevin Palmer Painting carries full insurance coverage. Our $2,000,000. coverage affords our painting clients the security and assurance that their interests are protected. Our insurance carrier will be pleased to send a Certificate of Insurance upon request. Our protection includes:  Workers Compensation and Employers' Liability Insurance, General Liability Insurance, and Automobile Liability Insurance.

Licenses and Certifications: Kevin Palmer Painting is licensed by the State of Connecticut as a Home Improvement Contractor. Our Registration #HIC.0534255 is on file with the CT Department of Consumer Protection and can be verified through the State of Connecticut's eLicensing Website.
In addition, Kevin Palmer Painting is certified by the Environmental Protection Agency as a Lead–Safe Certified Firm. Our Certification #NAT-44587-1 is on file with the EPA and can be verified using the EPA's Lead–Safe Certified Renovation Firm locator.





Paint Manufacturers: Kevin Palmer Painting has partnered with the finest paint manufacturers in the world to provide the best possible painting solutions for any painting needs. The following links will connect you to our supplier's websites:
Benjamin Moore
Glidden Professional
Sherwin Williams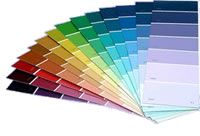 Color Tools: Visualize your color options from the comfort of your home. Color visualization tools enable you to actually review color choices with the click of your computer's mouse. It's simple and fun! And smart Phone Aps offer an array of color assistance.
Benjamin Moore Personal Color Viewer
Benjamin Moore Color Gallery
Benjamin Moore Mobile App For Smart Phones
Sherwin-Williams Color Visualizer
Sherwin-Williams ColorSnap App For Smart Phones
Blog Articles: Kevin Palmer Painting has a painting blog that explores a diverse array of topical painting issues, concerns, and newsworthy ideas. We explore everything from environmentally friendly paints, green painting practices, color trends, and interesting painting projects. Come join the fun and learn what goes into a great painting project.

Phone Advice: We're only a phone call away. We can help! Kevin Palmer Painting services the interior painting, exterior painting, house staining, and power washing needs in West Hartford CT and the surrounding Farmington Valley towns of Avon CT, Bloomfield CT, Canton CT, Farmington CT, Granby CT, and Simsbury CT. For further information or to discuss your next residential painting or commercial painting project you can reach us at (860) 658-2441 or visit us on the web at www.kevinpalmerpainting.com .
Painting done by Kevin Palmer Painting looks better, lasts longer, and offers the ultimate in beauty and protection.